practicing yoga in nature
We can never have enough of nature. Outdoor yoga is the aura and the cosmic energy we experience in nature. Ralph Waldo Emerson once said, "Adopt the pace of nature. Her secret is patience". Isn't it beautiful? The purest form of anything can be experienced if we immerse ourselves in natural surroundings.
Most of us practice our fitness sessions inside the four walls on our yoga mats. But what if one fine day we step out of confined areas of our home and make the lush green lawns our outdoor yoga mat and nature be our yogic companion. That's how conventionality can be broken.
You don't need any specialized equipment to practice yoga outdoors, just you and your mat (which is completely optional). Nothing, I mean exactly nothing, can beat the tranquillity of natural surroundings, and linking it with yoga is something way beyond imagination.
Though I have mentioned that you don't need much of anything to go outdoors for yoga sessions, maybe you decide to go somewhere far from your place for the yoga sessions, so here is the compiled list of few essentials:
● Outdoor Yoga Mats
● Sunscreen
● Water Bottle
● Towel
● Bag
● GPS Tracker
● Earbuds
● Outdoor Yoga Mat
There could be some places where the terrain is not smooth for you to practice your sessions; an outdoor yoga mat could be at your ease in all those places. But still, you can opt for lush green lawns. Apart from the yoga mats, you can also bring a paddleboard if you're visiting a beach, lake, or a river for a sup yoga session.
Outdoor Yoga Platform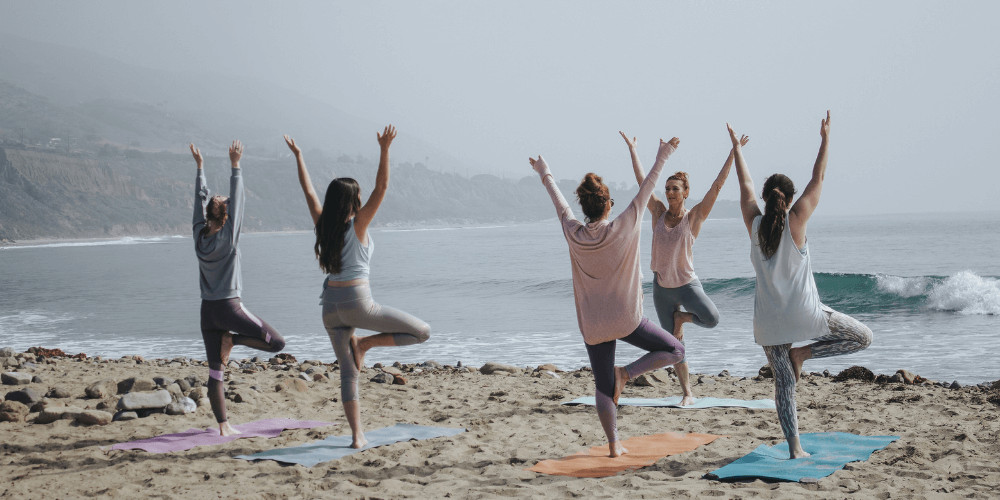 Plan to build a raised outdoor yoga platform by your house and personalize with anything you deem fit, and wake up every morning for your yoga workouts on the deck.
Sunscreen
There is nothing wrong with divulging yourself in your surroundings, but at the same time, you can't compromise with your skin health, wear sunscreen because the intense sun rays could prove to be a bane for your skin and eyes as well.
Water Bottle
Now, here is something really important – water. You can't do without it. When you have challenged your body for an intense workout, it needs to be hydrated as well.
Towel
If you are deciding to go to places away from your house, then take your towels along to cope up with sweaty sessions.
Bag
You won't be carrying everything in your hands, take a mini bag with you and all your stuff packed in it, and you are good to go. You can add eateries as well. Moreover, a bag can be especially handy if you're carrying an inflatable paddle for sup yoga.
Outdoor Yoga Mat
Make sure you bring your yoga mat outside to practice in a comfortable position and get the best of your session. Yoga mats can help us a lot to set up a good space for us to exercise every posture of our yoga practice.
GPS Tracker
One fine Sunday morning, you decided to explore a new location for your sessions, and when you decided to come back, you forgot where you started. That should not take place, so better carry a tracker or install one on your device.
Earbuds
Though there can't be anything more soulful than chirpings of birds, flowing water but still if you are practicing your sessions in nearby parks where families, friends are gathered for their morning or evening walks, then earbuds will work in your favor.
Best Spot for Outdoor Yoga:
● Pool
● Gardens
● Hiking
● Beaches
● Backyard
● Neighborhood
● Pool
Pool
If you have a pool at your house or in the society you live in, just grab your mat and start the sessions by the pool. Take your child along because that's the sign of good parenting.
Gardens
This doesn't need much boasting as who doesn't want to leave their mats at home and sit or lie on those green, dewy lawns and give yourself the pleasure of being yoga in nature.
Hiking
While for a day or two hiking plan you are already taking your bag along, don't miss outdoor yoga mats at home. Pack them and go for the long sessions in the valleys.
Read our article about yoga trekking in Annapurna base camp
Beaches
Sunset and sunrise by the beaches are the two best timings for trying your hands on yoga fitness sessions because the peace it offers can't be measured.
Backyard
What if you don't live in valleys or nearby beaches? That shouldn't take away the joy of outdoor sessions. If you have a backyard or even a gallery at your house, you just need a yoga mat or build an outdoor yoga platform, and you are good to go.
Neighborhood
Even in crowded cities, you will find gardens, open areas; you don't have to plan so much. You and your yoga mat know what to do next!
Best Places for Outdoor Yoga
Yoga sessions in natural surroundings are surreal experiences, but you can't be present around lush green lawns, fresh waters always. That does not mean you should skip your sessions; why not personalize your yoga platforms and create magic on your own.
You just need a breezy environment, a flat or smooth platform, and you can clean it if it requires cleaning. Try to prefer raised wooden. Outdoor yoga platforms. Buy or use a carpet from your home to cover it and fix it on the board.
In hilly areas, there's a lot of timber. You can make supporting timber stands. For that, you can hire a carpenter or try your hands with your skills. Make sure that you keep your outdoor yoga platform away from water so that you don't end up wetting it and damaging it.
Creating something requires its proper maintenance as well. It is a requisite to clean it daily. Make sure to level up the outdoor yoga platform from land and acquire all the required permissions from the concerned authorities if necessary.
Outdoor Yoga Chicago, Illinois
Chicago, being one of the most beautiful cities in the country, is a hotspot for yoga sessions, and being the place with fewer summers is most preferred in those one or two months when sunshine is pouring on the area. You should know the hot spots before planning your sessions in Chicago.
Millennium Park
You and your outdoor yoga mat are the best companions to visit this place and take advantage of lush green lawns adorning the property. Make your mornings beautiful practicing around this area.
Unity Park
How about taking advantage of a free pilates class with your yoga sessions, here you will get both. You just have to grab your yoga mat, nothing else.
Belmont Harbour
Fitness by water. Marvelous, isn't it? The beauty around this The area will make your sessions more energetic.
Test your balance with SUP yoga in Chicago.
You can try your hands on both because SUP yoga is the new normal. Better not waste your time because summers are short-lived in Chicago. Take your family along and grab the full benefits of yoga around this mesmerizing place.
Outdoor Yoga NYC, New York
Taking out time for yourself must be a tough call in NYC. The busiest mass stays here, but what if you can manage a few minutes or hours from your busy schedule and delve into the beauty of nature for your fitness.
Bryant Park
The terrace of the area offers a beautiful view of the city and is the best place for your sessions; You don't even need to take your mats along; they give it for free. I can bet you don't have a better deal than that.
Prospect Park
Adorned with perfectly cut grass, the beautiful park in the vicinity of NYC lets you calm in the fresh open air. All the residents around the area can visit this place for their sessions.
Outdoor Yoga SF, California
The city comprises hundreds of public parks adorned with lush green lawns is the best space for fitness enthusiasts.
Golden Gate Park
The city boasts of a beautiful attraction adorned with trees. Grab your outdoor yoga mat and sit under the shady trees to take the maximum out of nature.
Baker Beach
Baker beach offers soothing scenic views letting you delve into its beauty and practice your sessions in its vicinity. This place gives you a perfect opportunity for a sup yoga session.
Marshalls Beach
An isolated beach and a perfect getaway for introverts away from the city's noisy areas are the best places for yoga sessions.
Outdoor Yoga San Diego, California
Welcome the sunshine with your folded hands around the beach areas of San Diego. Known for its multiple beaches, it's a perfect getaway this summer.
Pacific Beach
Multiple yoga sessions are conducted in the area, but if you are someone who loves doing yoga on your own, it's the best choice for you as well.
Bird Rock Beach
Surrounded by the beauty of nature, you will find lots of companions around the place with their mats. Having a partner better than being alone is not bad sometimes; visit the place, and you will find at least one for your yoga sessions.
Outdoor Yoga Los Angeles, California
The most happening city in the world, we all must have dreamt of being in LA, Los Angeles California once for real in life. But that doesn't take away the charms of its natural surroundings, and with it comes the versatility of its offerings; yoga is one of them. Drive your senses in the beauty of the area and try your hands on the yogic sessions.
Marine Street
Drive your way through the street to beaches in its vicinity and don't forget to take your outdoor yoga mat along because beachy terrain is not quite comfortable for yogic sessions but with the yoga mats, you are at ease.
Long Beach
Scenic views of the beach and lush green lawns adorn the area. You don't have to take your yoga mat along necessarily if you love the green grass.
Octagon
A yoga expert at Octagon teaches yogic sessions to fitness enthusiasts. Grab a yoga mat and take advantage of sessions from the expert.
Outdoor Yoga DC (Washington, D.C.)
Take time from your busy schedule and work on the fitness of your body in the hundreds of gardens adorning the city.
Battery Kemble Park
The calmness and tranquillity of this place are enough to lay your hands on the outdoor yoga mat lying under the bed or covered with dust in the storerooms of your home.
Dumbarton Oak Garden
It can be called the antique beauty of nature. It is a small place but enough for enthusiasts who want to try their hands-on outdoor yoga sessions.
Mitchell Park
Plan your weekends practicing yoga in this beauty. Well- maintained gardens adorned with beautiful flowers are enough for you to fall in love with the idea of having your yoga sessions around the area.
Outdoor Yoga Seattle, Washington
The approaching summers in Seattle are inviting you to make the most out of it. So, what's the wait for, cleaning your yoga mats or buying a new one and making fitness your new hobby.
Cascade Playground
The city views plus the well-manicured lawns add to the charms of the place. So, while you don't have time to move out of the city, be opportunistic and start your sessions asap.
Seattle Center
The city boasts of this famous attraction among tourists as well as localities. You will find various fitness enthusiasts practicing their namaste around.
Denny Park
Ever heard of DJing with yoga? No, right? Here's one place where both happen. There are live events where you will find people practicing yoga sessions with DJ nights.
Olympic Park
A great visit for fitness enthusiasts. Situated among Seattle, the park hosts various yoga classes for free, and of course, you can practice the exercises on your own.
Alki Beach Park
What could be more mesmerizing than witnessing the sunset and sunrises along the beach park where you can gain all your energy for practicing the fitness sessions.
Boons Of Outdoor Yoga:
● Fresh Air
● Connection with Nature
● Awakened Senses
● Relaxes the Mind
● Energy
● Earthy Element
● Cosmic Energy
● Cleaning
● Healing
Fresh Air
The most loved benefit of outdoor sessions is an airy environment away from the four confined walls of your house. Fresh air rejuvenates you from inside and increases your concentration for your practice.
Connection with Nature
It's a boon to connect with nature. We go to nature to soothe ourselves and that connection is everything we need after a long tiring day at work or something to feel energetic throughout the day.
Awakened Senses
The surroundings open our senses to a unique perspective of life. Practicing yoga indoors and outdoors is day and night in itself. Nature changes our minds and senses to the fullest.
Relaxes the Mind
We hardly get time for ourselves in our busy schedules and our mind is filled with lots of issues throughout the day. Yoga takes away all the worries when practiced in the right environment.
Discover more about balancing your day with yoga here
Energy
Every day we need something to feel motivated, to have the same amount of energy to do our chores. It's difficult to Motivate ourselves on a daily basis; only outdoor yoga can help us in this.
Earrthy Element
The connection with the earth, one of the elements from which our body is made, is the purest form of living for us. Lying on the dewy leaves and sunshine touching our faces takes us closer to the earth.
Cosmic Energy
The energy around us is in the form of good and bad. All the cosmic energy is the one we should have around us. With yoga, we can take full benefit of incorporating it in ourselves.
Cleaning
We don't need unwanted things burdening our minds. They should be far away from our senses. The cleansing process that yoga in the outdoors offers is what our mind needs daily.
Healing
We don't even know what happens inside us; the healing process should work in our favor. Getting healed by nature is another level of the requirement our mind and body need.
Learn more about the new frequency therapy device Healy
Conclusion
Apart from everything, it's the inspiration that takes you away from all the disturbances in your life. Feel that from within, feel what you need in life; all the answers lie inside you. You don't need valleys or hilly stations to find your peace. A backyard of your home or even a terrace of your place is enough for rejuvenating your senses.
Yoga has a long history of healing people. It's not necessary to join yoga studios or hire an instructor to learn yoga. Once you start doing simple exercises and start feeling the cosmic energy around you, things will happen automatically.
Miracles don't happen just like that; we live in a world where we have to put effort into making them real! Gone are the days when you heard the stories of miracles. Make yourself satisfied from within, and nothing could be more satisfactory than rejoicing in the lap of nature and calming your senses with soothing yogic sessions!