The joy of practicing yoga, at home!
While 10 years ago, taking an online yoga class would have been regarded as eerie, or even against the yogic philosophy, it's now become commonplace. Especially since Covid-19, online yoga makes even more sense. Classes, retreats, and yoga teacher training are offered on all sorts of digital platforms. Of course, it's hard to leave behind the traditional way of face-to-face interactions. But at least, we've got new, and even more affordable options, right?
Whether you've already transitioned to online yoga or are still on the fence, here are 5 golden benefits of taking yoga courses online!
Time & Cost-Effective
Taking yoga courses online means that you don't have to spend your time on the road to go back and forth to classes or wait for others to join. It allows you to choose the time of the day that suits you best and take breaks on your own terms.
Doing an online course at home also means fewer transportation costs, eating out, and accommodation (in the case of yoga retreats or yoga teacher training). It means that you pay only the tuition fee of the online course, which will most likely be more affordable. All in all, you save time and money!
Flexibility
The perk of joining yoga online – whether it's a retreat, workshop, or class – is the flexibility of choosing the location. You can take your online yoga up to the mountain, by the ocean, directly at home, or anywhere else where you can connect to the Internet. It also allows you to find a balance between mindfulness and your daily life.
You only have to set up a time and space to take the course without having to leave other commitments like work or family. You'll be able to integrate the practice and methods directly in your surroundings. Think of online yoga courses as a sort of "pause" button from the daily stress that allows you to learn and grow at your own pace. What a privilege, right?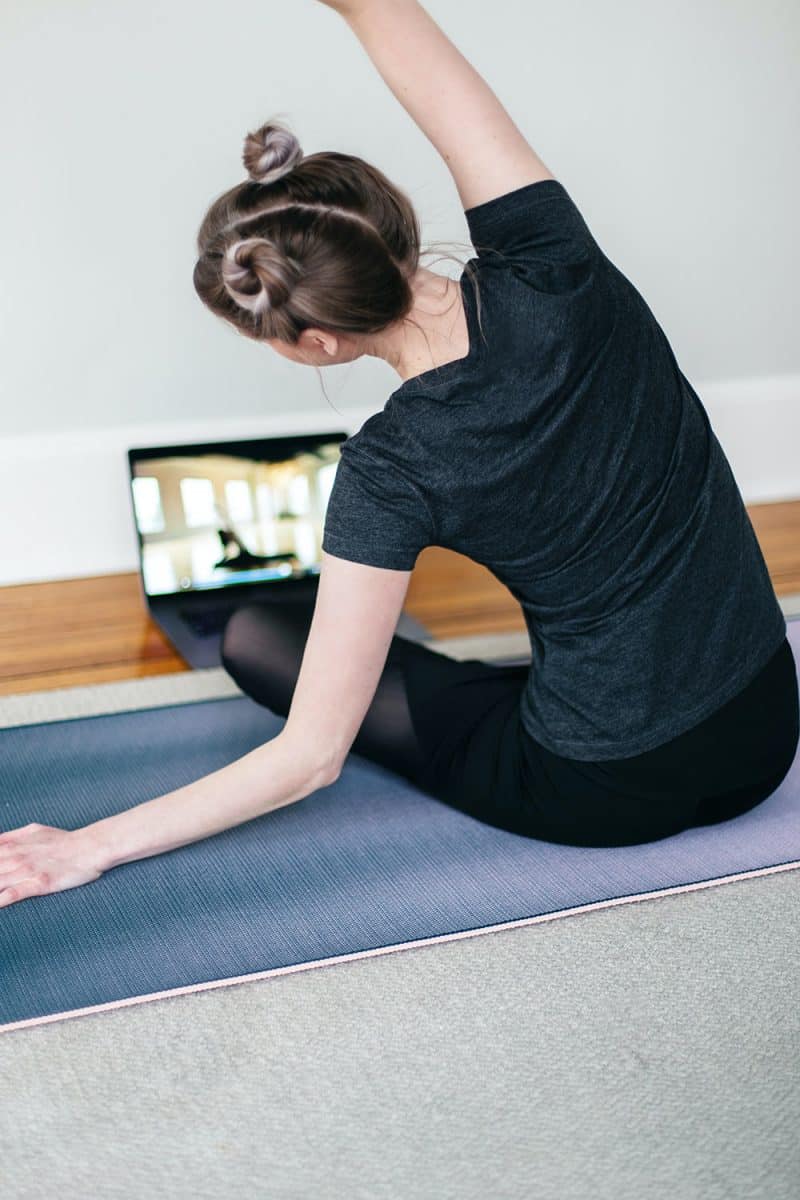 Variety of Choices & Broader Community
Doing yoga online is flexible, affordable, and practical and gives every individual a wide range of choices. There's no limitation of courses or classes to take. There are infinite topics, skills, levels, styles, disciplines, materials, formats, teachers, times, and prices to choose from that suit your individual needs. It also allows you to connect, engage, and interact with people worldwide without barriers and boundaries. You can now take your favorite teacher's classes from the comfort of your own home.
Less Distraction Means Deeper Connection
Another golden benefit of taking yoga courses online is that the classes tend to be smaller. This takes into consideration more unique collaboration and more feedback between you and the facilitator or teacher. Taking an online course at your own pace and in your own space allows you to concentrate even better due to a lack of distraction or outside stimuli. You can have full control over your learning, which class you want to spend more time with, or more time to explore other courses and classes.
It will create a deeper connection between you and the practice or subject you are learning and even with yourself and your body. Furthermore, it gives introverted or shy yogis more opportunities to join classes, retreats, and workshops in their own comfort zone.
Greener Option
Online-based learning is an effective alternative to in-person yoga classes and retreats, it is also better for the planet. Compared to a conventional retreat, for instance, students use 90% less energy and 85% less CO2 in an online retreat. Taking part in this sort of experience lets both students and teachers give back to Earth. Thanks to this sustainable way of learning, you get enriching benefits from the course, while reducing your carbon footprint!
To depart
Online yoga won't necessarily replace your offline experience – but it can complement it. It is a great, affordable, and sustainable way to enrich your practice and include yoga into your daily life and habits. Online yoga is on the rise, yogis – give it a try!
Take a look at this recommended online 3-day yoga retreat from Namastay Home retreat.