The name "Farmacy" says it all: farmyard ingredients with pharmaceutical effects. The traditional belief receiving a modern revitalization, that food should be your medicine, is embodied by this fashionable restaurant in the heart of Notting Hill.
Entering Farmacy, you leave the bustle of London at the door, and are met by an artfully constructed interior and ambient music. Foliage in abundance adorns the walls, ranging from draping vines to impressively flourishing plants. Equal care has been accorded to presentation with monochromatic pottery used as crockery and rustic glass bottles for the drinks. Moreover, clean wooden tables are arranged around a central bar area, allowing for both casual encounters with creative cocktails or sit-down meals.
Enchanted by the diversity of choice, ordering may prove difficult! Gone are the days when lonely garden salads and olives reigned supreme as plant-based offerings at London's restaurants. Now you're up against Mac 'n' Cheese, Artichoke Pizetta and creative salads. The Asian salad does much to impress with its multitude of different flavours, textures and colours. The crunch of raw broccoli is balanced with the softness of mushrooms, the light-green spinach and cucumber complimented by the darker tones of seaweed, and the bitterness of sprouts harmonised with the sweetness of the sesame ginger dressing.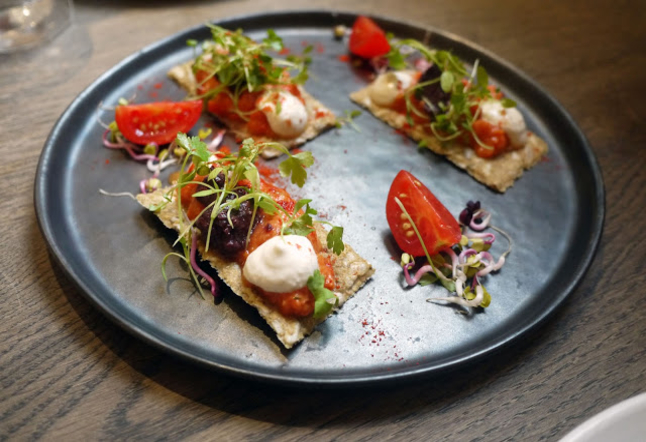 Credit Hef's Kitchen
As a main, the Ayurvedic Beetroot Dahl is equally impressive. Coconut milk is becoming a staple in plant-based diets, yet Farmacy has managed to incorporate this ingredient in a new and interesting way. The cooked beetroot infuses the Dahl with a rich taste and a wonderful colour. Don't get me started on the buckwheat that sits neatly alongside! Light and fluffy, it makes for the perfect accompaniment. To top it all off, a "nice" cream brownie sundae stacked high awaits at the end. The moistness of the brownie is incredible!
I for one left Farmacy full, eager to come back and re-inspired by the power and artistry of food. Not only do the dishes on offer fire up your immune system, but they also burn away bored stereotypes that plant-based foods are devoid of flavour.
Read next >> vantra